News
Signum Ops has produced a new software developed for salvors of the 1715 Fleet along Florida's east coast, ready for release as DigTrakR 1.0. The beta edition will be distributed to select operators in the first quarter of 2018. Information and tutorial videos can be found here.
The software is devised especially to make use of the 1715 Fleet maps developed originally by the Fishers and devised by Bill Moore. These charts, provided to sub-contractor salvors, are 2D drawings produced using AutoCAD and feature records of excavation over a period of more than 30 years.
DigFindR is a 64-bit Windows program, which will run on Windows 7 and on through the current release of Windows 10. It is a product that has a developmental history reaching back more than 25 years to original versions written specifically for cadastral mappers, based on computer aided drafting engines created by Oleg Kolbaskin. Over the years, the code has migrated through three releases of the dynamic link libraries produced by Oleg and had its most recent incarnation as MagTrakR, which was written privately to map magnetometry surveys. With the newest version of Kolbasoft's LiteCAD 2D CAD engine, particular code was developed to handle the attribute data in the 1715 Fleet maps. DigTrakR 1.0 as currently designed is directed toward 1715 Fleet operations, but it can be adapted for use by the scientific community at large. The program is equipped with the means to use a number of earth coordinate projections and it has an NMEA 0183 GPS interface.
"The Andrews Gazetteer" is now available at Amazon!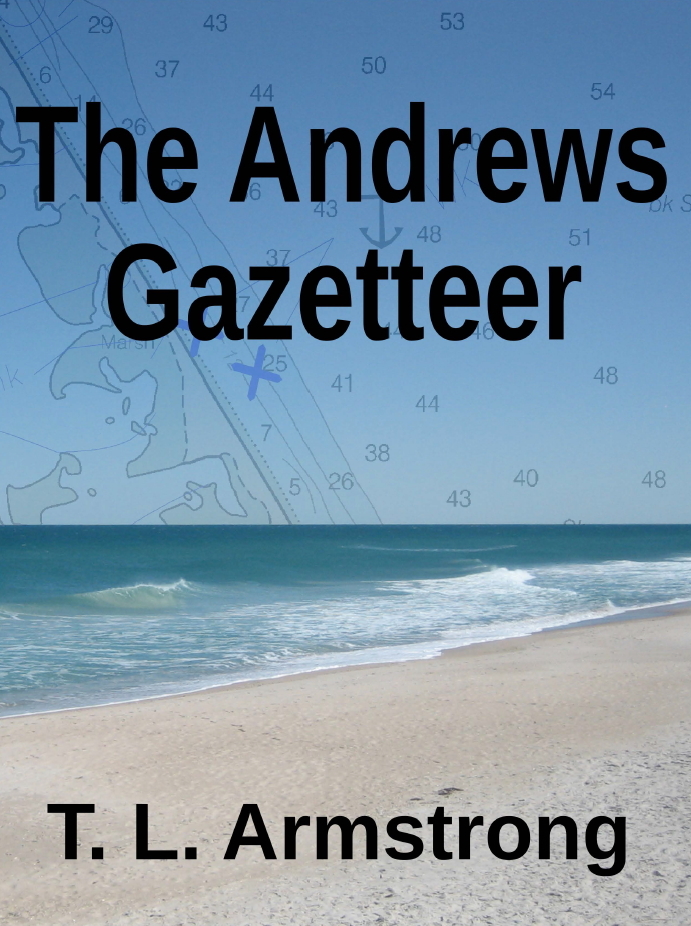 Bill Andrews and his family explored the east coast of Florida from New Smyrna to Fort Pierce during the '60s and '70s and he recorded his discoveries on marine charts that he guarded closely. After his death, the author was given access to that map, which is reproduced here along with supporting notes of other established treasure hunters of that era.
There are several published sources with maps illustrating the positions of the 1715 Fleet shipwreck sites along the Treasure Coast of Florida, all of which enumerate the sites from Sebastian Inlet southward throughout St. Lucie County. While there's no doubt the wrecks are there and have been salvaged repeatedly over the centuries, in fact, there are a number of beach locations north of Sebastian Inlet that continue to produce more 1715 coinage along the shore, and there certainly are shipwrecks between Cape Canaveral and Sebastian Inlet, vessels of one type or another that were hauling treasure. Allegedly two of the 1715 Fleet ships were lost without a trace, but the continual discovery of 1715 era cobs along the shore north of Sebastian Inlet, purportedly along the entire southern half of Brevard County, continues to support the notion that those missing ships are somewhere in the vicinity. The Andrews map sheds new light on those possible locations.
T. L. Armstrong