News
Signum Ops has produced a new software developed for salvors of the 1715 Fleet along Florida's east coast, ready for release as DigTrakR 1.0. The beta edition will be distributed to select operators in the first quarter of 2018. Information and tutorial videos can be found here.
The software is devised especially to make use of the 1715 Fleet maps developed originally by the Fishers and devised by Bill Moore. These charts, provided to sub-contractor salvors, are 2D drawings produced using AutoCAD and feature records of excavation over a period of more than 30 years.
DigFindR is a 64-bit Windows program, which will run on Windows 7 and on through the current release of Windows 10. It is a product that has a developmental history reaching back more than 25 years to original versions written specifically for cadastral mappers, based on computer aided drafting engines created by Oleg Kolbaskin. Over the years, the code has migrated through three releases of the dynamic link libraries produced by Oleg and had its most recent incarnation as MagTrakR, which was written privately to map magnetometry surveys. With the newest version of Kolbasoft's LiteCAD 2D CAD engine, particular code was developed to handle the attribute data in the 1715 Fleet maps. DigTrakR 1.0 as currently designed is directed toward 1715 Fleet operations, but it can be adapted for use by the scientific community at large. The program is equipped with the means to use a number of earth coordinate projections and it has an NMEA 0183 GPS interface.
"A Treasured Life" is now available at Amazon!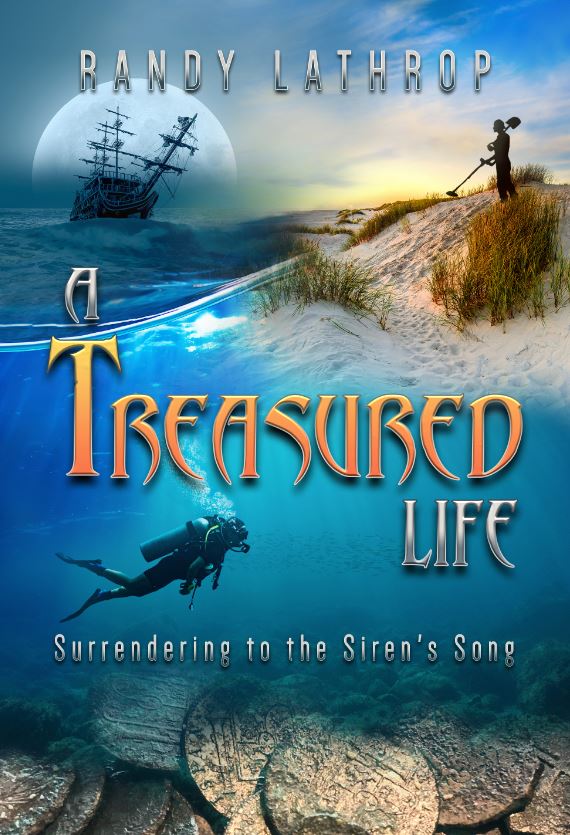 Randy Lathrop's underwater adventures have taken him far and wide throughout the oceans of the Caribbean, Atlantic, as well as the Great Lakes, and the submerged caves of Florida and Mexico. "A Treasured Life" is a very personal recollection of life as a diver in both the commercial and recreational venues.
As a teenager in Florida, he took up cave diving in Florida's many springs and sinkholes. An accidental discovery of lost Spanish gold while hunting for lobsters and fish along Florida's Treasure Coast lead to a lifetime of diving and the quest for treasure. Being in the right place at the right time he was hired as a diver by several salvage firms to work on a number of the famed Spanish Fleet wrecks lost in 1715.
Those projects were followed by similar efforts in The Bahamas, Turks and Caicos Islands, Belize, and Lake Huron. He made national headlines in his pursuit of the lost Spanish ship, the La Esclavitud, off the coast of Cape Canaveral and the subsequent court battle that followed.
While running his own business as an underwater videographer, he was involved in the initial exploration of the world's longest cave system in Mexico, Nahoch Nah Chich. His videos and photos have been shown on the History Channel's Deep Sea Detectives, Inside Edition, NBC, Wall Street Journal, the Smithsonian Magazine, and numerous other news agencies.
The book has over 150 photos, 145 in color, along with 4 maps, a complete index, and footnotes. More than 330 exciting pages of great reading.