News
Signum Ops has produced a new software developed for salvors of the 1715 Fleet along Florida's east coast, ready for release as DigTrakR 1.0. The beta edition will be distributed to select operators in the first quarter of 2018. Information and tutorial videos can be found here.
The software is devised especially to make use of the 1715 Fleet maps developed originally by the Fishers and devised by Bill Moore. These charts, provided to sub-contractor salvors, are 2D drawings produced using AutoCAD and feature records of excavation over a period of more than 30 years.
DigFindR is a 64-bit Windows program, which will run on Windows 7 and on through the current release of Windows 10. It is a product that has a developmental history reaching back more than 25 years to original versions written specifically for cadastral mappers, based on computer aided drafting engines created by Oleg Kolbaskin. Over the years, the code has migrated through three releases of the dynamic link libraries produced by Oleg and had its most recent incarnation as MagTrakR, which was written privately to map magnetometry surveys. With the newest version of Kolbasoft's LiteCAD 2D CAD engine, particular code was developed to handle the attribute data in the 1715 Fleet maps. DigTrakR 1.0 as currently designed is directed toward 1715 Fleet operations, but it can be adapted for use by the scientific community at large. The program is equipped with the means to use a number of earth coordinate projections and it has an NMEA 0183 GPS interface.
"Texas Treasure" is now available!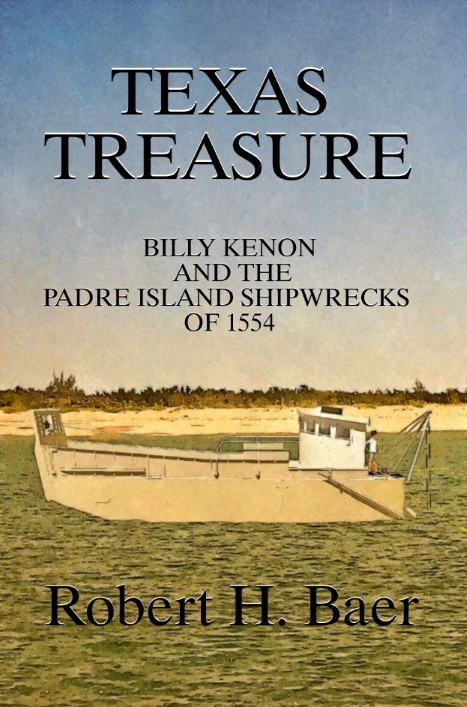 In 1554 a fleet of Spanish ships, laden with treasures from the New World departed from Vera Cruz in Mexico, bound for Havana. For reasons yet unknown, at least three of the vessels were wrecked on the coast of present-day Texas at Padre Island, not far north of the Rio Grande where their remains languished for centuries.
Treasure hunters armed with metal detectors began finding Spanish coins on Padre Island in the 1960s. Billy Kenon, a local salvage master teamed up with the Znika brothers from Indiana and formed the Platoro Group with an eye toward finding the remains of the ships and their treasure cargo. This is the story of Billy Kenon's successful salvage of one of those ships, and the 20 year battle he endured with Texas authorities over rights to the treasure he and the Platoro Group recovered in the turbid waters of the Gulf of Mexico. Bob Baer gives Billy Kenon a voice, drawing attention to the treachery of Texas bureaucrats, and the true significance of the Platoro Group's discoveries.

Dr. Robert H. Baer a native of South Florida. He received the Graduate Diploma and the Master of Studies (MSt) degree in Professional Archaeology from the University of Oxford, UK, and the MA in Archaeology and Heritage from the University of Leicester, UK. Bob has conducted archaeological investigations in both the terrestrial and marine environments, specializing in Compliance Archaeology. Bob is a graduate of Georgia Military College, and served as an Infantry Officer in the U.S. Army. He is a graduate of the Center For Advanced International Studies, University of Miami (MA, Asian Studies) and holds a Doctorate in Public Administration (DPA, Public Policy) from Nova University.
Coming in spring of 2021 "A Treasured Life"
Randy Lathrop is about to bring his diving adventures to the press. Randy is an old hand on the 1715 Fleet salvage, working on the Wedge Wreck, Corrigans, and others over the years. As a commercial diver he worked throughout Florida for Aqua-Tech and at one point he had his own underwater video production business, which took him on assignments from the Great Lakes to Belize. He was an avid cave diver, and took part in the exploration and documentation of the Nahoch Nah Chich cave system in Mexico. A great read that you won't be able to put down!